Arsenic Removal
West Bengal, India
| | |
| --- | --- |
| Location | West Bengal, India. |
| Pollutant | Arsenic |
| Cause | Naturally occurring in groundwater. |
| Population Affected | 137 million worldwide; approximately 70 million in India and Bangladesh and 30 million in other ASEAN countries. |
| Health Impact | Health effects include skin lesions and cancer of the skin, lung, kidney, bladder and liver. Use of contaminated groundwater in irrigation is also responsible for transmission of arsenic through the food chain, accounting for nearly 50 percent of the total arsenic exposure in many regions of South Asia. |
| Output | Starting in 2006, a team of European and Indian scientists led by Queen's University Belfast (QUB) established a low-cost, chemical-free method of treating and pumping groundwater in the state of West Bengal in India to remove naturally occurring but deadly arsenic. |
| Outcome | Arsenic presence in waters from the treatment plants was reduced to barely detectable levels from levels 28 times above those acceptable to the U.S. EPA, effectively eliminating the carcinogenic substance from the water. |
| Implications | This technology could transform arsenic removal strategies from groundwater sources in the Ganges and Mekong Deltas and other areas where the naturally occurring arsenic is of arsenopyrite origin. This region covers the arsenic affected zones of Eastern India, Bangladesh, Cambodia, Vietnam and Thailand. |
Context
Arsenic (As) poisoning from drinking water has been called the worst natural disaster in the history of mankind. An estimate of 137 million people are affected in 70 countries by arsenic poisoning [1].
According to a report by the World Bank, more than 1,312 villages in West Bengal, India, near the Ganges River are detrimentally affected by arsenic contaminated groundwater [2]. A study done in 2000 showed that at least 10 million people living in West Bengal, including about 2.5 million children, were drinking arsenic contaminated ground water containing levels significantly above the limits set by the World Health Organization [3]. As a result, almost 3 million people in the region suffer from arsenic related diseases [4].
Site Details
In West Bengal most drinking water has been typically collected from open dug wells and ponds without any arsenic problem. However, due to pollution, this water became contaminated with heavy metals & bacteriological contaminations such as diarrhea, dysentery, typhoid, cholera and hepatitis. Since 1970s and 1980s shallow hand-pumps & wells (at depths less than 70 meters) were installed to provide clean drinking water. Arsenic was found in the ground water of West Bengal in the 1980s. An estimated 30 million people in the Ganges delta are drinking groundwater contaminated with arsenic [5].
In Kasimpore in West Bengal, site of the first water treatment plant implemented by the TIPOT Consortium (see Intervention), the arsenic concentration in groundwater, which was being used by the local population for drinking purposes ranged from 91 to 282 μg/L as compared with the WHO drinking water guideline value of 10 μg/L. Subsequently six plants for community water supply were set up in two districts of West Bengal with the World Bank grant and each plant has been supplying the drinking water of more than 500 people. Locations of the site are given in the project website, www.insituarsenic.org.
Arsenic is released to groundwater under naturally occurring aquifer conditions.
Health Impact
Arsenic is a potent carcinogen and is known to cause cancer of the skin, lung, kidney, bladder and liver.
Exposure Pathways
People are poisoned from drinking contaminated water. Use of contaminated groundwater in irrigation is also responsible for transmission of arsenic through food chain, accounting for nearly 50 percent of the total arsenic exposure in many regions of South Asia.
Intervention
Starting in 2006, a team of European and Indian scientists led by Queen's University Belfast (QUB) established a low cost chemical free method of arsenic removal (www.qub.ac.uk/tipot) in the state of West Bengal in India. The technology known as 'TIPOT' (for Technology for in-situ treatment of groundwater for potable and irrigation purposes) is based on subterranean arsenic removal (SAR) without the aid of any chemicals. The project was supported by the European Commission under Asia Pro Eco programme. Subsequently, Ramakrishna Vivekananda Mission (RKVM), one of the Indian partners of TIPOT Consortium, received a grant from the World Bank to set up six community water treatment plants in the state of West Bengal with the assistance of Queen's University Belfast.
The conventional technologies used in India for arsenic removal are based on 'pump and treat' method involving either adsorption or membrane processes. Such plants are expensive to run and have problems associated with waste disposal and maintenance. In contrast, 'TIPOT' process based on subterranean arsenic removal (SAR) or 'In-situ treatment' neither uses any chemicals, nor producesany disposable waste. The installation is similar to a tube-well and all parts are easily available.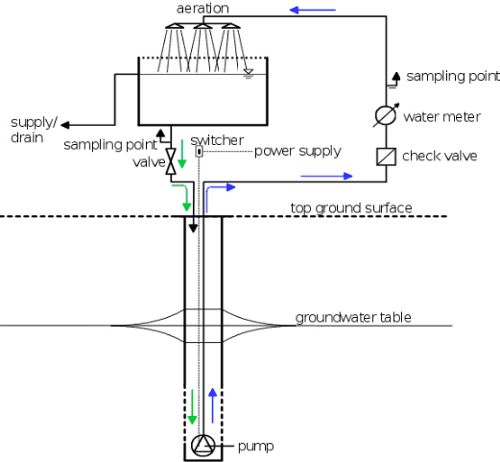 The in-situ method is cost-effective and, unlike filtration systems, eliminates the need for sludge handling. The arsenic which is trapped into the sand along with the iron flocs constitute an infinitesimal volume of the total volume being handled and hence pose very little environmental threat in its precipitated form. The whole mass remains down below unlike other processes where there is extra cost of sludge handling and messy disposal problem. The process is chemical free, simple and easy to handle. There is no restriction to the volume it can handle as long as proper time is allowed for the oxygen rich impregnated water to create the adequate oxidizing zone in the deep aquifer. It is also quite flexible with respect to the raw water quality as the efficient coefficient could be varied depending on the quality of the raw water. It involves low capital cost and minimum operating cost or expertise.
fig. 2
Plant
Capacity
Initial Arsenic conc (mg/lt)
Final Arsenic conc (mg/lt)
Initial Iron conc (mg/lt)
Final Iron conc (mg/lt)
Merudandi, Basirhat
4000 lt
0.2820
BDL
3.3259
BDL
Naihati Purbapara, Basirhat
4000 lt
0.1750
BDL
1.5734
BDL
Tepul, Gobardanga
4000 lt
0.158
BDL
2.9356
0.101
Rangpur, Nilgunj
3000 lt
0.0916
BDL
3.4028
0.068
Ghetugachi, Chakdah
3000 lt
0.2065
BDL
2.077
BDL
Naserkul, Ranaghat
3000 lt
0.187
BDL
3.2248
0.077
Max Permissible Limit:
Iron: 1 mg/lt
Arsenic: 0.05 mg/lt (BIS); 0.01 mg/lt (USEPA/WHO)
Below Detectable Level (BDL) = below 0.002 mg/lt
At total of six in-situ treatment plants have so far been constructed in W. Bengal (fig. 2.)
This technology could transform the way arsenic will be removed from groundwater in South Asia and other parts of the world. TIPOT technology is appropriate for the Ganga and Mekong Delta where the arsenic is of arsenopyrite origin. This land mass covers the arsenic affected zones of Eastern India, Bangladesh, Cambodia, Vietnam and Thailand. An estimated 70 million people are affected in India and Bangladesh by arsenic exposure and another 30 million in other ASEAN countries.
Implementing Organizations
Queen's University Belfast and Ramakrishna Vivekananda Mission in association with National Metallurgical Laboratory of India, Institute of Environmental Management and Studies, India, Leiden University, Netherlands, Stuttgart University, Germany and Miguel Hernandez University, Spain.
References
Arsenic in Drinking Water Seen as a Threat. AP Online August 30, 2007
B. Sen Gupta, A. Bandopadhyay and N. K. Nag, Ed. 2008. Low Cost Technology for in-situ treatment of groundwater, (Macmillan)
→ http://www.insituarsenic.org.
Additional Photos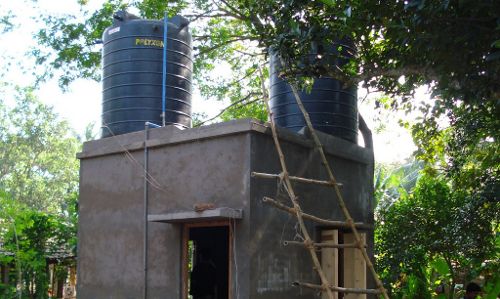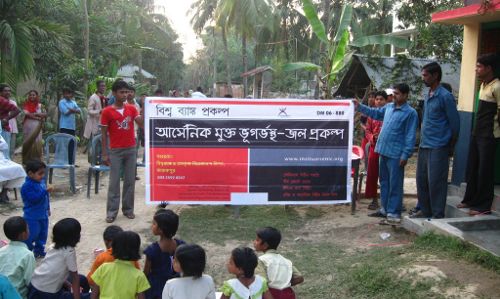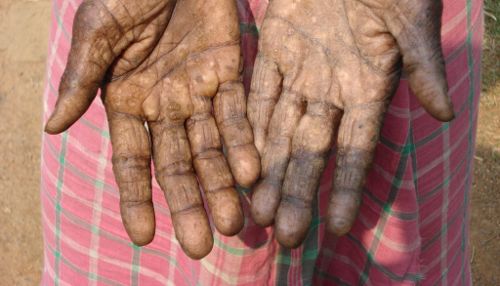 Credit: Ravakrishna Vivikananda Mission
Footnotes
[1] Arsenic in Drinking Water Seen as a Threat AP Online August 30, 2007
[2] Subterranean Arsenic Removal: Experiment to Delivery. World Bank Project Report: 2006-0880. Retrieved 2 Oct 2009
→ http://tiny.cc/Worldbankreport
[3], [4] Ibid.
[5] Arsenic Plan Fails, New Scientist, 31 July 2004.