Industrial/Municipal Dumpsites
Municipal solid waste (MSW), often termed "garbage" or "trash," is an inevitable byproduct of human activity. Unfortunately, in many LMICs improper industrial and municipal waste management have given rise to unmanaged dumpsites. These industrial/municipal dumpsites have the ability to pose a threat to health and also may have a long-term effect on the environment.
There are almost 150 industrial or municipal dumpsites in Pure Earth's database that are polluting local communities, potentially putting almost 3.5 million people at risk. The largest number of these recorded dumpsites are in African, Eastern European and Northern Asian countries. Combined, these regions make up more than half of the total at risk population in Pure Earth's investigations of dumpsites. However, industrial and municipal dumpsites are prevalent throughout the developing world including in South and Central America and South and Southeast Asia, and the total numbers of dumpsites and people at risk are undoubtedly much higher.
Key Pollutants
Each dumpsite varies in pollutants depending on the source of the waste, but the most common pollutants identified and reported within Pure Earth's sites are lead and chromium. Combined, lead and chromium are found in almost a third of the identified industrial and municipal dumpsites, potentially affecting more than 4.5 million people around the world and resulting in an estimated 370,000 to 1.24 million DALYs. The health impacts of these pollutants have been detailed under the top six pollutants categories and include lung cancer, neurological problems and cardiovascular diseases. Other common pollutants found in dumpsites include cadmium, pesticides, arsenic and other volatile organic compounds. Broader health risks include fires, collapses and slides, infectious diseases, cuts and fractures and so on.
Exposure Pathways
The main sources of pollutants from dumpsites are either leachate (contaminated liquids soaking into the groundwater), dust from poorly covered or controlled landfills and landfill gas that is not captured1. Leachate can contain heavy metals, VOCs or hazardous organic compounds. These pollutants are carried into aquifers or surface waters. Dust from dumpsites may contain metals and human pathogens that come into contact with this pollution through contaminated groundwater and soil, or direct contact with the waste site2. Children are seen playing in and around dumpsites, introducing direct exposure with hazardous waste through dermal contact, inhalation of dust or accidental ingestion. Informal neighborhoods are often built on top of previous dumpsites where the soil, groundwater and nearby surface waters are contaminated, indirectly exposing the local population to leached pollutants. A notable issue with dumpsites in the developing world is the presence of scavengers - workers and their families at dumpsites who make their living by recovering economically valuable materials in the waste. In such situations, people come into direct contact with the contaminants at the waste site.
---
1. Johannessen, L.M. et al. "Observations of Solid Waste Landfills in Developing Countries: Africa, Asia and Latin America." The World Bank Group, Urban Development Division. 1999
2. Ibid.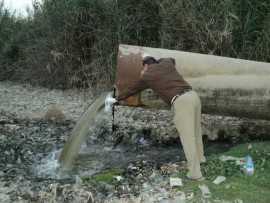 Top 10 Polluting Industries